Establishment of the enterprise
Foundation of the company, activity concept was formed as steel service center, cooperation started with producers of rolled steel
Steel supplier
Further growth of the company as a supplier of rolled steel, supplies started for the leading enterprises in Western regions of Ukraine. Opening of rolled steel distribution center on the total area of more than 12 000 sq. m. equipped with industrial bridge cranes and necessary test equipment.
Steel Supply Abroad
Further growth of supplies of rolled steel to Hungary, Poland, Slovakia, Bulgaria, Latvia, Lithuania. IMVO becomes a member of the Chamber of Commerce of Ukraine and of the Scientific and Industrial Association of Engineering and Metal Treatment "Halauto." IMVO acting as consultant and supplier of special grades of steel for the needs of engineering and metal treatment. Successful delivery finish of special welding wire for construction of Odesa-Brody pipeline.
Investment
Investment carried out into production equipment, departments of design, engineering and technology established. The company entered a new phase of growth, transition to the design and production activities took place. Developed and put into production the basic elements of racking systems. Restructuring of business processes started with the aim of concentrating on production and engineering, basic competencies formed needed for activities in warehouse logistics.
Cooperation
cooperation started with companies Fozzy Group, Sav-Service. BRV. Roller tables designed, manufactured, delivered and installed at the airport Boryspil for the company Aerosvit.
Gold diploma
gold diploma granted for the best storage equipment at the exhibition "InterStorage - 2006", Kyiv.
High storage racking systems
High storage racking systems put into production.
Person's certificates received
Certificate ISO 9001:2001 granted for quality management system. Project of distribution center for Samsung Electronics Ukraine developed and implemented - mezzanine area of ​​2,100 sq. m.
Commercial production
Commercial production of new types of products for the city needs - lighting poles. Storage equipment exported to Romania and Georgia.
Certificate and export of products
Certificate of quality management system ISO 9001:2008 granted. Project for heavy duty racking system, unique for Ukraine, developed and implemented as well as special fencing structures for customs warehouse. A new type of products - gravitation racking – put into production and delivered. Export of products to Germany, Sweden, Belarus, Moldova, Russia, Kazakhstan.
Sertificate GOST
In September 2014 company IMVO received a certificate GOST R (Russian Federation standard). It includes a list of parameters and requirements, which are formed on the basis of European standard EN 51512.
EC Declaration of conformity
In October 2014 company received EC Declaration of conformity. This document is clear proof of IMVO racking systems' reliability and their compliance with European standards.
IMVO expands its' supply geography
IMVO expands its' supply geography to Aragic countries, Africa and Eastern and Western Europe. First oversea supplies.
Certificate ISO 9001:2015
IMVO has received the certificate for quality management system ISO 9001: 2015.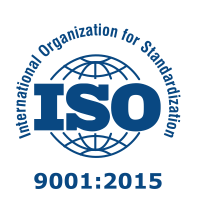 This certificate confirms the response of our management processes, which perform on all fixed deliveries, produce and install the service.
Goal
We do not stop at the achieved level. Each new day for us is a new search and new solutions for our customers. We are grateful to all our customers, suppliers and partners for their trust and respect for our work. Your confidence inspires us to be creative.