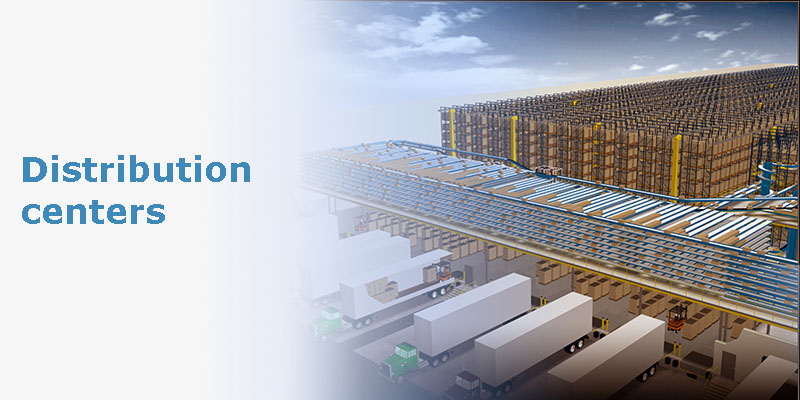 A rapid growth of technology all over the globe keeps leaving less time and space for efficient activity. Hence, old wholesale warehouses are replaced by distribution centers with fast operations. Small and big companies, having no relevant need to hold an own warehouse, have created a demand for a new logistic subject, which provides short term warehousing service for further distribution on the market area. The other factor is a global delivery time cut. Distribution centers (DC's) allow manufacturers and suppliers to store goods in wholesale or retail quantities with further delivery to retail network, warehouses or production facilities. Also, the distribution centers are the best solution, when it comes to moving cargo from one carrier to another with temporary warehousing. The DC is a big advantage for small trade companies, who cannot afford to hold their own warehouse and have no need in one for long warehousing. Therefore these companies can get the needed goods any time they want in any quantities from the nearest DC. Accordingly, the more DC's cover the area, the faster and more efficient is the delivery from a manufacturer to the end consumer.
For the distribution center to work efficiently, modern automation, logistics and electronic recording technologies have to be implemented. Wide range of incoming and outcoming goods require modern handling. The transport, loading and warehousing equipment reliability is critical, because the goods turnover is very rapid and the loading/picking frequency is high.
In modern DC's the conveyor systems for indoor transporting are used, which move goods from the delivery section to warehousing or dispatch section. There are also automated loading and picking systems installed to avoid technological delays and inventory inaccuracy.
Even though the main task of a DC is receiving big batches of goods and then distribution plenty of smaller amounts to their destination, the warehousing issue of a DC is one of most important. And since the retail customers want the goods to be in wide range and be always available, the DC has to be capacitive. IMVO LLC provides particular racking systems, as well as complex technological warehouse solutions with all equipment and transport roots designed. We can perform an efficient DC plan, estimating the best configuration of the warehouse for project benchmarks achievement.  
IMVOs' racking equipment allows to carry on the following functions of a DC's:
Warehousing of goods on pallets, shelves, cantilevers or combined;
Picking and pallet composing for loading on cargo carriers;
Incoming goods sorting before loading on racks;
Automated single or multichannel goods transporting bulk or on pallets within the DC from a receiving area to the warehousing/loading area;
Staff, equipment and goods safety;
Dividing the warehouse in to different technological zones, auxiliary equipment.