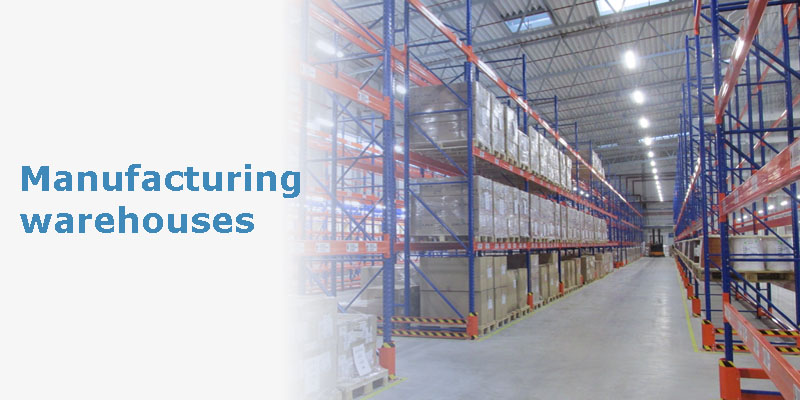 In production, the racks play not only the warehousing role (for raw materials, parts, finished goods), but supply and distribution also. Depending on the type of production, there may be single type or combined solutions used simultaneously. The main task of racks is dense warehousing with easy and fast access to the goods for further processing – manufacturing or shipping.  
IMVOs' warehouse solutions for production warehouses include a wide range of racking equipment types, from conventional racks to automated handling systems. 
We offer the following solutions for production warehousing:
Pallet racking 

This type of racking is designed mainly for goods warehousing in big quantities. It can be used in raw materials or components warehouses or in finished goods' warehouses. In case the FIFO principle is required, often used in production, the conventional pallet racks, drive-through pallet racks and pallet flow racks can be used. 

Shelving and combined racking 

It is used for both – a separate warehouse and in a production area, where the parts or tools can be held and used. For a quick raw material/components supply to the production area the carton flow shelving is the best option.  

Multi tier warehousing – mezzanines 

These structures can keep the production and warehousing zones separate on the same area, but on different levels of a production building.  

Cantilever racks 

This type of racking is used for long goods warehousing – finished goods and parts, like in automotive industry or engineering supply. 
For efficient solution design, IMVOs' experts study and process incoming data on a number of goods' types and their properties – weight, dimensions, shelf life (turnover), packaging etc., and the properties of the building – area, form, height, receiving and shipping points and its number, temperature conditions and other. Also, our experts are ready to assist you in optimization of existing production and warehousing solutions. The warehousing division modernization allows to significantly increase the company's competitiveness. If you have any questions of need assistance in solutions implementations, feel absolutely freet to contact us or leave a message