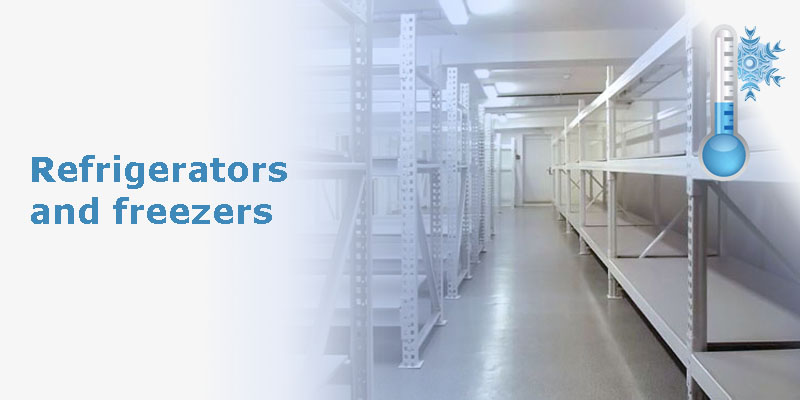 For goods' warehousing in low temperature conditions (refrigerators and freezers), the warehouse has to have a special layout and according equipment . 
First, it has to be divided in to sections and cabinets for:
goods warehousing with refrigerating and freezing,

refrigerating equipment installation,

tools and loaders,

goods defrosting,

utility and technical rooms
For low temperature goods warehousing the insulated chambers are used without windows to keep low temperature. Walls, doors and floors are made of insulated materials, walls are mostly made of sandwich panels and the doors have insulating material inside. To reduce warm air coming to the freezer because of doors are opened in operational purposes, the special lobbies and/or air curtains are applied. The floor is filled with polystyrene and urethane to provide insulation. The cost optimization of cold warehouse issue is critical. Accordingly, the warehouse layout organization is to come from most accurate calculations. Despite the cooling and freezing systems, the air ventilation and, if available, multiple storeys of a building have to be used wisely. The racking with goods has to be designed to provide best ventilation of a room. Hence, there are regulations to the intervals between the SKU's for easy air flow. If there is a bulk goods warehousing or stacking, it may lead to rapid and frequent frost accumulation.
In case the goods are shipped by a truck or train without cooling and conditioning, these goods have to be defrosted, to prevent condensate emerging and further melting with lots of water to handle. The Defroster is a special chamber for goods' defrosting, equipped with the heater and active ventilation. After defrosting, the goods with dry surface are loaded on the cargo vehicle. It is relevant for handling meat and fish, which are held in lower temperatures than other goods. Racks, on which the goods are loaded, have to be resistant to materials which may leak during defrosting procedure.
IMVOs' shelving, the most frequently used type of racking in freezers, is capable for applying in any temperatures below 0ºС in its standard configuration. The steel, used for making structural elements, can bear -35 to -70ºС, while the powder coating stands -60ºС. Common low temperature warehouses have +4 (fruits and some of vegetables) to -24ºС (meat, fish) temperature conditions. IMVOs' experts will assist you in calculations and designing of best configuration of the future warehouse with freezers to achieve lowest exploitation and maintenance costs. Send your inquiry and we will offer you the best solution as soon as possible, that will allow you to create an efficient low temperature warehouse.