Combined Racking
General characteristics of the combined racking:
Designed for storage at goods with special weight and dimensions characteristics.
They can combine a few types of shelving, for example:

pallet racking and trade cantilever shelving (used in the format of Cash & Carry);
pallet racking and shelving on the lower storage levels (used in distribution centers of retail chains);
pallet racking with arrangement on the lower tiers for vertical storage of profiles, rails, decking panels, etc.

Pallet storage is combined with arrangement on the lower storage levels of technical solutions for picking goods (widely used in network of format DIY).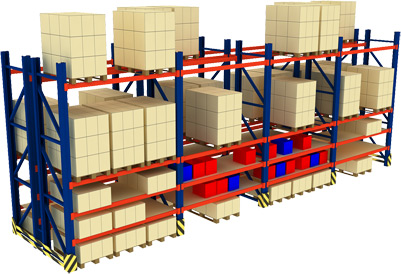 Combined system is based on proven pallet racking with wide capabilities for storage heights and loads.
Large range of accessories that adapt the system of warehouses to storing special goods.
Application of polymer coating in any color of RAL-scale.
Development and production of any elements of the storage system to meet customer's requirements.